Tsavorite gemstone
Home
➤
Encyclopedia of gems
➤ Tsavorite gemstone
Physical properties of tsavorite
| | |
| --- | --- |
| Hardness: | 7-7.5 out of 10 on the Mohs scale |
| Luster: | glass |
| Transparency: | transparent |
| Color: | light green, bright green, dark green |
Characteristics of tsavorite
Tsavorite is a new and very interesting gemstone. New, although it is a variety of the long-known gemstone garnet.
For the first time, tsavorite was discovered in the African national park Tsavo (which gave the name to the stone) only in 1967. And although after that several more deposits of tsavorite were discovered, nevertheless this gemstone is considered quite rare.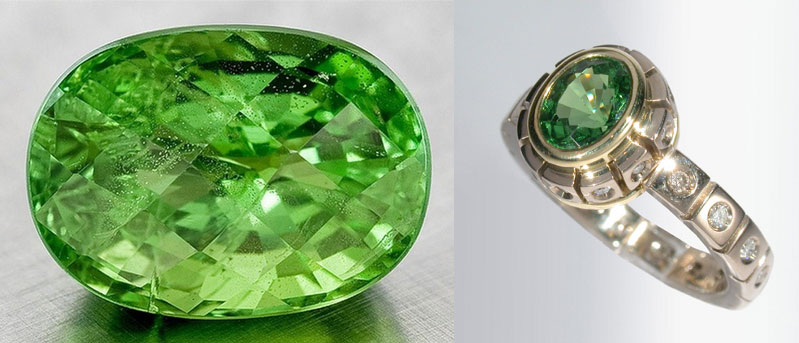 Most of all, tsavorite is similar to the gemstone emerald. However, it is softer. A good specialist in stones distinguishes tsavorite from emerald precisely by the strength of the stone, as well as by a slightly different refraction of light. The color of tsavorite most of all resembles the greenery of the forest and grass. But there are tsavorites with a bluish tint.
For those who want to buy jewelry with tsavorite, you need to know that this gem shows its beauty and brightness of color better in daylight. Moreover, the darker the color of tsavorite, the more it matters.
The main disadvantage of tsavorite is that large crystals are very rare (more than 85% of mined tsavorites do not exceed one carat). And another important detail: high-quality tsavorites are cut, and crystals with impurities and defects are polished into cabochons.
How much does tsavorite cost
Tsavorites are among the most valuable garnets. The price of small stones is from $150, but large tsavorites are valued at $500 per carat and more.
The most popular stones in our encyclopedia: